Republic of Vanuatu
Geographical situation and geophysical context
Vanuatu is a Y-shaped archipelago consisting of about 83 relatively small, geologically newer islands of volcanic origin, with about 1,300 kilometres between the most northern and southern islands.
The fourteen of Vanuatu's islands that have surface areas of more than 100 square kilometres are, from largest to smallest: Espiritu Santo, Malakula, Efate, Erromango, Ambrym, Tanna, Pentecost, Epi, Ambae or Aoba, Gaua, Vanua Lava, Maewo, Malo and Aneityum or Anatom.
Here are some key aspects of the geophysical context of Vanuatu:
Tectonic Setting: Vanuatu is situated within the Pacific Ring of Fire, a region known for its intense tectonic activity. It lies on the boundary between the Pacific Plate and the Australian Plate. Vanuatu is part of the subduction zone where the Australian Plate is subducting beneath the Pacific Plate, giving rise to a complex tectonic setting.
The Vanuatu arc in is one of the world's most seismically active regions, with almost 42 magnitude 7+ earthquakes in the past 45 years. Convergence rates are around 90–120 mm/yr along most of the arc, but drop to 25–43 mm/yr in the central section, probably due to the subduction of the d'Entrecasteaux ridge.
The seismogenic zone has a shallow bulge in front of the d'Entrecasteaux ridge, which could be explained by the ridge's buoyancy contributing to the uplift of the fore-arc islands. The seismogenic zone extends to ~45 km depth, significantly below the 26–27 km depth of the fore-arc Moho, indicating that the upper mantle wedge is not significantly serpentinized, which is consistent with the relatively high thermal parameter of the subducting plate. The maximum width of the seismogenic zone is 80 km, indicating an upper earthquake magnitude limit of Mw 7.85 ± 0.4, assuming standard rupture zone aspect ratios.
Volcanic Activity: Vanuatu is known for its active volcanoes. The archipelago has several active volcanoes, including Mount Yasur on Tanna Island, Ambrym Island, and Lopevi Island. Eruptions occur periodically, and volcanic activity is a prominent feature of the geophysical context of Vanuatu.
Earthquakes: Due to its location within the tectonically active region, Vanuatu experiences frequent earthquakes. These earthquakes result from the subduction of the Australian Plate beneath the Pacific Plate and the release of accumulated tectonic stress.
Coral Reefs: Vanuatu is surrounded by diverse and vibrant coral reef ecosystems. The coral reefs contribute to the geophysical context by providing habitat for a wide range of marine species and supporting local livelihoods and tourism activities such as snorkeling and diving.
Topography: The islands of Vanuatu exhibit a diverse range of topographic features. They range from coastal plains and sandy beaches to rugged mountainous terrain. The central islands, such as Espiritu Santo and Malakula, have mountain ranges and volcanic peaks. Mount Tabwemasana on Espiritu Santo is the highest point in Vanuatu.
Geothermal Activity: Vanuatu has geothermal energy potential due to its volcanic activity and geothermal resources. The presence of hot springs and geothermal systems provides opportunities for renewable energy development.
The geophysical context of Vanuatu has shaped the islands' natural environment, including its volcanoes, coral reefs, and diverse topography. The archipelago's tectonic activity and volcanic landscapes contribute to its unique natural beauty and offer opportunities for scientific research and adventure tourism.
---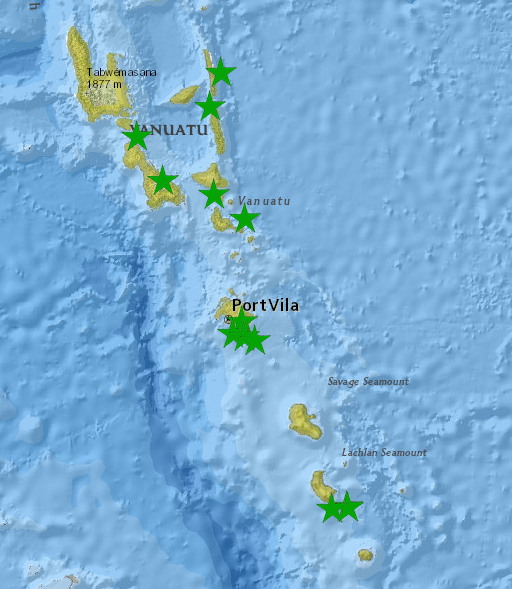 Vanuatu seismic network, FSDN code : VU
The Vanuatu seismic network is managed by the Vanuatu Meteorological and Geohazards department. This network, transmit data in real time to their data center in Port-Vila to help them monitor seismic activities occuring in their country. Below, is the list of Vanuatu permanent seismic station, with code officially registered into ORSNET:
SANVU : Santo station, Santo island – Joined partnership with Geoscope network
MRNO : Marino station, Maevo island
ABNG: Ambanga station, Ambae island
LVVL: Luvunvilli station, Ambae island
AMB1: Ambrym caldera station, Ambrym island
WAMB: West ambrym station, Ambrym island
LPV: Lopevi station, Lopevi island
LAKA: Lakatoro station, Malekula island
RTV: Rentapao station, Efate island
DVP: Devil's point station, Efate island
PVM: Port Vila station, Efate island
ISAN: Isangel station, Tanna island
YAS: Yasur station, Tanna island
---
National institutions
National observatories & agencies responsible for hazards monitoring and alert dissemination:
Vanuatu Meteorological and Geohazards department – VMGD
The Vanuatu Meteorological and Geohazards department is responsible for seismic hazards monitoring and government and stakeholders alert dissemination.
| | | |
| --- | --- | --- |
| | Ms. Esline Garaebiti | Ministry of Climate Change Director General |
| | Mr. Montin Romone | VMGD Director |
| | Mr. John Junior Niroa | VMGD Geohazards Manager |
Natural Disaster Management Office – NDMO
The Natural Disaster Management Office is responsible for public alert dissemination, risk management (crisis and post-crisis)
| | | |
| --- | --- | --- |
| | Mr. Abraham Nasak | NDMO Director |