Republic of Fiji
Geographical situation and geophysical context
Fiji is an archipelago located in the South Pacific Ocean, northeast of Australia. It consists of more than 330 islands, with the two largest ones being Viti Levu and Vanua Levu. Here are some key aspects of the geophysical context of Fiji:
Tectonic Setting: Fiji is situated within the Pacific Ring of Fire, which is a region characterized by intense tectonic activity. It lies along the boundary of the Pacific Plate and the Australian Plate. The interaction between these plates has resulted in a complex tectonic setting. Fiji is located near the subduction zone where the Pacific Plate is subducting beneath the Australian Plate.
Earthquakes: The subduction zone in the region makes Fiji prone to earthquakes. Earthquakes of varying magnitudes occur regularly, with some potentially causing significant damage. These earthquakes are a result of the subduction process and the release of accumulated tectonic stress.
Volcanic Activity: Fiji has a history of volcanic activity, and there are several volcanic islands in the archipelago. The most well-known volcano in Fiji is Mount Tavurvur on the island of Taveuni. While there are active volcanoes, volcanic activity is relatively infrequent compared to other volcanic regions in the Pacific Ring of Fire.
Coral Reefs: Fiji is renowned for its diverse and extensive coral reef ecosystems. The islands are surrounded by fringing reefs, barrier reefs, and atolls, making it a popular destination for diving and snorkeling. The coral reefs contribute to the overall geophysical context by providing protection to the coastlines and supporting a rich marine biodiversity.
Topography: Fiji exhibits diverse topography, ranging from coastal plains to rugged mountainous terrain. The larger islands have mountain ranges, such as the Nakauvadra Range on Viti Levu. Rivers and waterfalls are also prominent features in the landscape, cutting through the interior of the islands.
---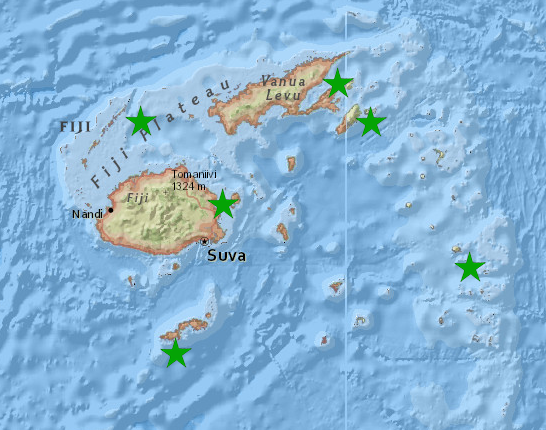 Fiji seismic network, FSDN code : FJ
For the Seismology Section to effectively perform its core duties, the Fiji Seismological Network comprises of six (6) outer remote satellite stations that continuously sends real-time dataset to the main hub (Head Quarter, HQ) at the Mineral Resources Department, Suva on 24/7 routine base. The receiver station in Suva retrieves and displays these real-time waveform data on interconnected monitoring software and computers.
DGTI (Dogotuki), located on Vanua Levu island.
KADA (Kadavu), located on Kadavu island.
LKBA (Lakeba), located on Lakeba island.
TAVE (Taveuni), located on Taveuni island.
TLVU (Tailevu), located on Viti Levu island.
YASA (Yasawa), located on Yasawa archipelago.
---
National institutions
National emergency operating centre responsible for hazards monitoring and alert dissemination:
Fiji Mineral Resources Department – MRD
The monitoring of earthquake and tsunami in Fiji is an ongoing 24 hours a day, 7 days a week (24/7) activity that the Seismology Section of the Department of Mineral Resources is in charge and accountable for.
| | | |
| --- | --- | --- |
| | Mr. Raymon Mohammed | MRD Director |
| | Mr. Saula Mule | Seismologist, MRD |
| | Mr. Laisenia Rawace | Seismologist, MRD |