Solomon Islands
Geographical situation and geophysical context
Solomon Islands is an island country consisting of six major islands and over 900 smaller islands in Oceania, to the east of Papua New Guinea and northwest of Vanuatu. It has a land area of 28,400 square kilometres, and a population of approximately 700,000.
The Solomon Islands are located in the southwestern Pacific Ocean, east of Papua New Guinea and northeast of Australia. Geophysically, the Solomon Islands lie within the Pacific Ring of Fire, which is an area characterized by intense tectonic activity, including volcanic eruptions and earthquakes. Here are some key aspects of the geophysical context of the Solomon Islands:
Tectonic Setting: The islands are situated at the boundary of the Pacific Plate and the Australian Plate. This region is known as a convergent plate boundary, where the Pacific Plate is subducting beneath the Australian Plate. The subduction of the Pacific Plate beneath the Australian Plate has resulted in the formation of a trench, known as the New Britain Trench, to the east of the islands.
Earthquakes: The subduction zone beneath the Solomon Islands is responsible for frequent seismic activity. The region experiences numerous earthquakes, ranging from smaller tremors to larger, potentially destructive events. These earthquakes are a result of the ongoing subduction process and the release of accumulated tectonic stress.
Volcanic Activity: The Solomon Islands also host several active volcanoes, with the most notable being the Tinakula, Kavachi, and Savo volcanoes. These volcanoes are part of the Pacific Ring of Fire and are associated with the subduction of the Pacific Plate. Eruptions can occur periodically and pose hazards such as ashfall, lava flows, and potential tsunamis.
Tsunamis: Due to the tectonic activity in the region, the Solomon Islands are susceptible to tsunamis. Earthquakes occurring along the subduction zone can trigger tsunamis that can affect the coastal areas of the islands and surrounding regions.
---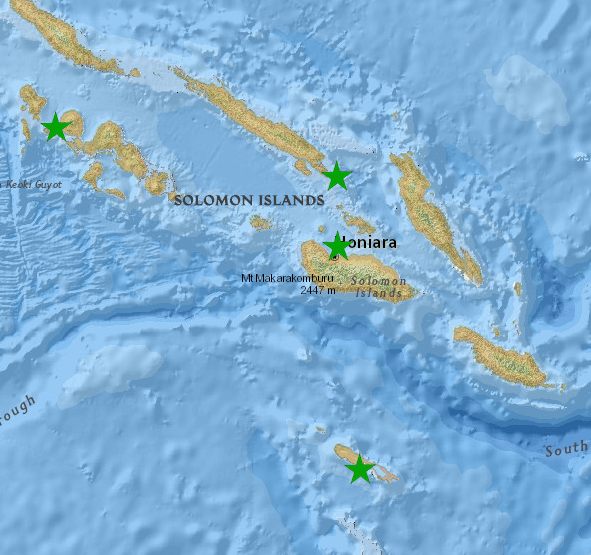 Solomon Islands seismic network, FSDN code : SW
The Solomon Islands (SI) seismic network is managed by the SI geological survey department, helped with the government ICT department for the data transmission and the data center management. Below, is the list of SI permanent seismic stations, with code officially registered into ORSNET:
SAVO: Savo island
TATA: Tatamba, Isabel island
HNR: Honiara, Guadalcanal island
MARA: Gizo, Western Solomon island
NGOA: Tingoa, Rennell island
---
National institutions
National observatories & agencies responsible for hazards monitoring and alert dissemination:
SI Geological Survey Division – GSD
This department is responsible for seismic hazards monitoring and government and stakeholders alert dissemination.
| | | |
| --- | --- | --- |
| | Mr. Clinton Roga | GSD Deputy Director |
| | Mr. Thomas Toba | GSD Chief geologist |
| | Mr. Carlos Tatapu | GSD seismologist |
SI Meteorological Services – SI Met
This department is responsible for alert dissemination and tsunami/earthquake risk mitigation
| | | |
| --- | --- | --- |
| | Mr. David Hiba | SI Met Director |
SI ICT Department – SI ICT
This department is responsible for the data transmission and the data center management for the SI seismic monitoring network
| | | |
| --- | --- | --- |
| | Mr . Steve Erehiru | ICT Director |