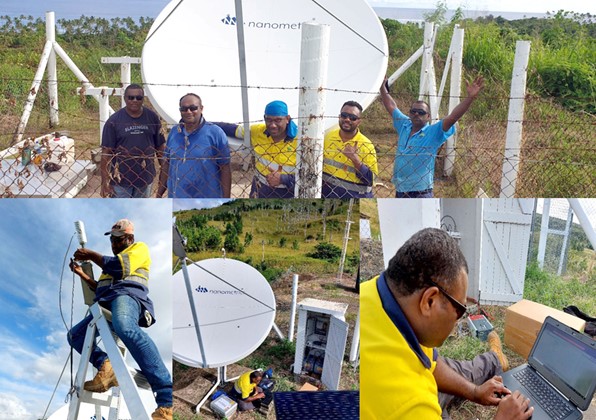 Pacific Island Countries (PICs) are among the most vulnerable nations to adverse impacts of climate change and natural hazards such as cyclones, storm surges, floods, drought, earthquakes, and tsunamis. PICs are not only remote but also dispersed over a large area, with small domestic economies that are significantly impacted in the event of a natural disaster. On Saturday 15 January 2022, 
Tonga's Hunga Tonga Hunga-Ha'apai volcano
 erupted sending a plume of ash and volcanic gas 30 kilometres into the atmosphere and generating tsunami waves across the Pacific. Around 10 hours after the eruption, people in Miami, USA, over 7,000 miles away from the volcano, saw pressure waves at speeds of 695 mph – acoustic ripples in the air which were essentially travelling at the speed of sound through the atmosphere. The eruption, which happened just 65 kilometres from the Tongan capital of Nuku'alofa, has been affecting the lives of the 100,000 people living in Tonga. To help mitigate earthquake and tsunami hazards, The Pacific Community's 
Pacific Resilience Programme (PREP)
 with funding from the 
World Bank
 is working with Pacific Island countries on strengthening their Multi-Hazard Early Warning Systems to earthquake related hazards through the 
Oceania Regional Seismic Network (ORSNET)
, implementing several initiatives that include strengthening monitoring of seismic activity and forecast systems, capacity building, through improving earthquake and tsunami detection and warning. The ORSNET seismic network include seismic stations across a wide group of Pacific Island countries ensuring faster real time monitoring and warnings. ORSNET countries include Papua New Guinea, Solomon Islands, Vanuatu, Samoa, Fiji, Tonga, and New Caledonia managed by 
the Vanuatu Meteorology
 and 
Geohazards Department
  who are the secretariat of ORSNET. In Fiji, 
the Fijian Government
 through the Mineral Resources Department (MRD) invested FJD 650,000 towards the upgrade of Fiji Seismic Network that includes six seismic VSAT stations. SPC's PREP Project provided a technical consultant to work with MRD to integrate Fiji local seismic stations into the ORSNET regional server located in Noumea. Through this work SPC through 
the PREP project
 was able to review the status of all the seismic stations and operations and recommend prioritised actions that each should take in strengthening their seismic monitoring capabilities.
"I am doing Assessments of the Emergency Operating centre under seismology unit in MRD. I am here to see how they handle earthquake and tsunami alerts through standard Operating Procedures. The Global Assessment mainly looks at the network and technical assessment focuses on the human resources, as well as Identifying capacity development needs at national and regional level" Sylvain Todman Geo-Physical Engineer PREP regional consultant for disaster risk management works with pacific countries facing risks related to earthquake or volcanic eruptions.
THE FIJI MINERAL RESOURCES DEPARTMENT (MRD) AT YASAWA ISLAND SEISMIC STATION.
The integration of Fiji Seismic Network into ORSNET server enabled the 
National Tsunami Warning Centre
 in Fiji and the Southwest Pacific improve its speed and accuracy for earthquake detection and tsunami early warning. This also allows the 
Pacific Tsunami Warning Centre
  to access Fiji Seismic Network and strengthen its capability to detect and forecast tsunamis generated by earthquakes in the Fiji region and the Southwest Pacific. As a result of this work, MRD's Seismology unit was able to accurately detect seven felt and minor earthquake events in Fiji's Naitasiri region. Tabulated results showed earthquake magnitude ranges from 2-4 with shallow depth ranges of 6- 20km from May – June 2022. These events are located inland at a shallow depth and does not pose any tsunami threat to Fiji and the region. The reports from members of the public identified that these events are weak based on the Modified Mercalli Intensity Scale. The Pacific Community will continue to support our partner countries in strengthening their Multi-Hazard Early Warning Systems to earthquake related hazards through initiatives that include infrastructure development, installing seismic equipment to improve forecasting, evacuation plans, information sharing, and Standard Operating Procedures at regional, national, and community levels.