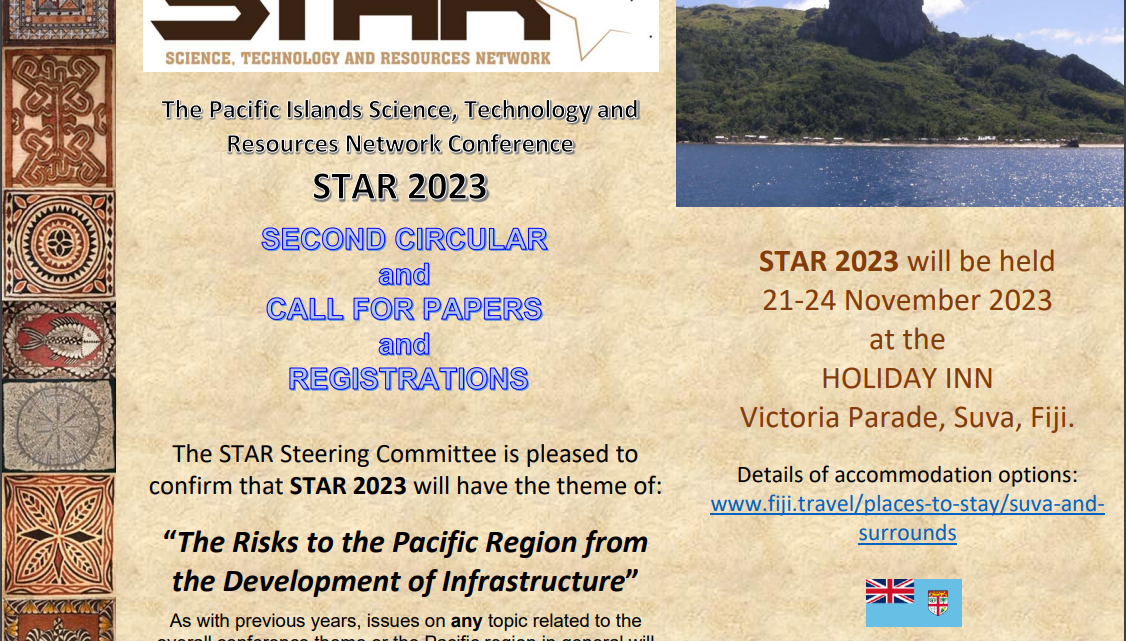 Second Circular and Call For Papers and Registrations
The STAR Steering Committee is pleased to confirm that STAR 2023 will have the theme of:
"The Risks to the Pacific Region from the Development of Infrastructure"
As with previous years, issues on any topic related to the overall conference theme or the Pacific region in general will also be welcome and will be included in the STAR 2023 programme.
STAR 2023 will be held 21-24 November 2023 at the HOLIDAY INN, Victoria Parade, Suva, Fiji.
Conference Format
STAR 2023 will be a hybrid conference, oral presentation sessions will be available.
Poster presentations may also be available.

Presentations:
2-hour sessions will be scheduled during the hours 09:00 – 17:00.
PowerPoint presentations must be no longer than 15 minutes with 5 minutes for discussion.

Working Groups:
Working groups will also be scheduled during STAR 2023 on topics relevant to supporting Pacific Island countries with their sustainable development. Any member, or group of members of STAR should provide details.

Field Trip:
A field trip is being planned for STAR 2023. Details will be provided in due course.

Student and Early Career Prize
The STAR Steering Committee will award a prize for the best presentation during the STAR 2023 given by a student or early career scientist.

Abstract Submission:
Delegates intending to participate in STAR 2023 are hereby invited to submit titles of papers and abstracts under the focus areas. Abstracts should be submitted via email in the attached format.
Early submission is strongly encouraged; however, the revised submission deadline will be:
01 October 2023
Registration Submission: Registrations should be submitted using the attached form.

Registration Fees:
– Before 01 October FJD200
– After 1 October FJD250
– Virtual FJD100
– Student (presenting paper) Free
– Student (no paper) FJD50
– Field Trip FJD100